Hey artists! This is Aylinerik here and I wanted to put some info here about colored shading since we have a page about normal shading and this is used more often than that.
Note1: Use strong paper that won't have holes in it if you press hard with markers.
Note2: Have at least 3 shades of a primary color. (Examples: Red, Dark Red, Pink.) <If you think those won't blend in together, oh they do very well blend in.
Look at this heaven parrot I drew. This is an example on what colored shading looks like.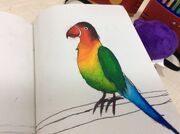 Go over the top color with a lighter shade or similar color, for example, I went over the border of the red with a light orange. I honestly prefer using a spiral pattern when colored shading because I feel like it helps me.