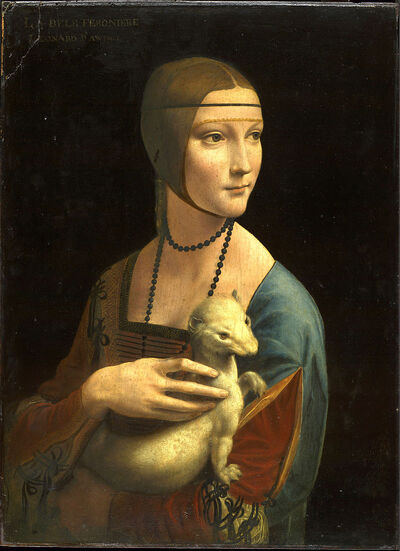 General Information
Artist:

Leonardo da Vinci
Year:

1489–1490
Medium:

Oil paint on wood panel
Subject:

Cecilia Gallerani
Dimensions:

54 cm × 39 cm (21 in × 15 in)
Location:

Czartoryski Museum, Kraków
About
Lady with an Ermine is a painting by Leonardo da Vinci from around 1489–1490. The subject of the portrait is Cecilia Gallerani, and was likely painted at the time of her status as mistress to Ludovico Sforza, Duke of Milan, and Leonardo was in the service of the Duke. The painting is one of only four portraits of women painted by Leonardo, the others being the Mona Lisa, the portrait of Ginevra de' Benci, and La belle ferronnière. It is currently displayed at the Wawel Castle, Kraków, Poland.
Ad blocker interference detected!
Wikia is a free-to-use site that makes money from advertising. We have a modified experience for viewers using ad blockers

Wikia is not accessible if you've made further modifications. Remove the custom ad blocker rule(s) and the page will load as expected.