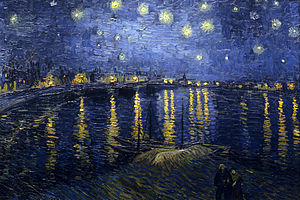 General Information
Artist:

Vincent van Gogh
Year:

1888
Medium:

Oil paint on Canvas
Dimensions:

72.5 cm × 92 cm (28.5 in × 36.2 in)
Location:

Musée d'Orsay, Paris
About
This particular painting is one of Van Gogh's paintings of Arles at night. It was painted with oil paint, and it's demensions measure 28.5 x 36.2 inches. 
The sky is similar to that of "Cafe Terrace at Night" and "Starry Night". These masterful swirls are mixed with the blue to the point where it is not blury, but only slightly defined. This technique can be done using a Round Brush of small size. 
The water is another interesting feature. The yellow is, again, blended with the admiral blue, but is much more defined than in the sky. The brush strokes are horizontal rather than in circular patterns like the sky.